ERYTHEMA MULTIFORME ASSOCIATED WITH MYCOBACTERIUM TUBERCULOSIS INFECTION
André Laureano

Interno do Internato Complementar de Dermatologia e Venereologia/Resident, Dermatology and Venereology, Serviço de Dermatologia, Hospital de Curry Cabral – Centro Hospitalar de Lisboa Central, Portugal

Cândida Fernandes

Assistente Hospitalar Graduada de Dermatologia e Venereologia/Graduated Consultant, Dermatology and Venereology, Serviço de Dermatologia, Hospital de Curry Cabral – Centro Hospitalar de Lisboa Central, Portugal

Jorge Cardoso

Chefe de Serviço de Dermatologia e Venereologia, Director do Serviço/Chief and Head of Dermatology Department Serviço de Dermatologia, Hospital de Curry Cabral – Centro Hospitalar de Lisboa Central, Portugal
Keywords:
Erythema multiforme, Mycobacterium tuberculosis, Skin
Abstract
Erythema multiforme is an uncommon, immune-mediated disorder that presents with cutaneous or mucosal lesions or both, that occurs as a hypersensitivity reaction in response to infections or drugs. Erythema multiforme is mostly associated with herpes simplex virus. The association with Mycobaterium tuberculosis infection was less frequently described. We present a case of an Erythema multiforme caused by Mycobacterium tuberculosis infection in a 35-year-old patient who was successfully treated with isoniazid, rifampicin, pirazinamid and ethambutol.
Downloads
Download data is not yet available.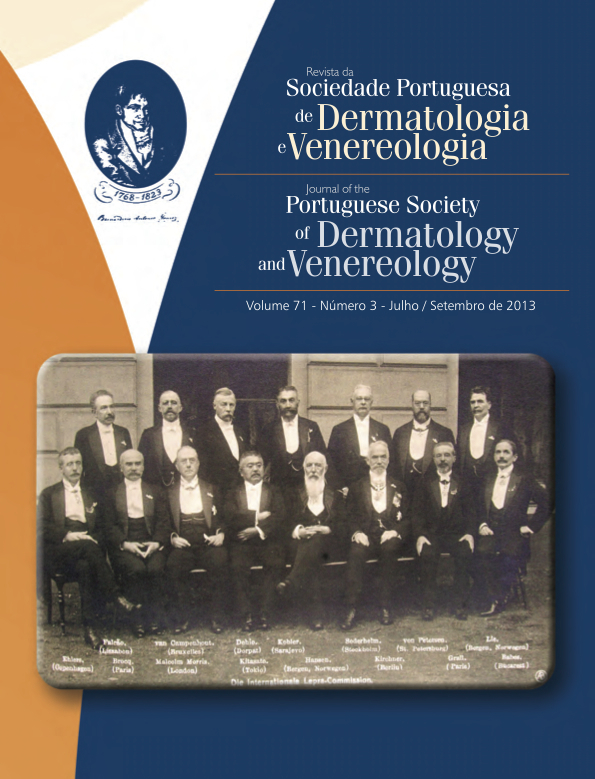 How to Cite
Laureano, A., Fernandes, C., & Cardoso, J. (2014). ERYTHEMA MULTIFORME ASSOCIATED WITH MYCOBACTERIUM TUBERCULOSIS INFECTION. Journal of the Portuguese Society of Dermatology and Venereology, 71(3), 365-369. https://doi.org/10.29021/spdv.71.3.194
All articles in this journal are Open Access under the Creative Commons Attribution-NonCommercial 4.0 International License (CC BY-NC 4.0).