POROKERATOSIS OF MIBELLI – A CASE REPORT
André Laureano

Interno do Internato Complementar de Dermatologia e Venereologia/Resident, Dermatology and Venereology

Vasco Coelho Macias

Interno do Internato Complementar de Dermatologia e Venereologia/Resident, Dermatology and Venereology

Fernando Assis Pacheco

Chefe de Serviço de Dermatologia e Venereologia/ Consultant Chief of Dermatology and Venereology Serviço de Dermatologia, Hospital de Curry Cabral – Centro Hospitalar de Lisboa Central, Portugal
Abstract
Porokeratosis are the result of a clonal proliferation of keratinocytes. About six clinical variants were des- cribed to date, sharing the histological feature of cornoid lamella in the stratum corneum.
The authors report a porokeratosis of Mibelli in a 27-year-old black female appearing in childhood successfully treated with a topical retinoid. Common manifestations of a rare dermatosis are presented with emphasis to the role of histo- pathology in the diagnosis. Porokeratosis of Mibelli is a chronic and progressive dermatosis, rarely with spontaneous remission. Malignant degeneration has been described with a reported incidence of 7%, with highest malignant trans- formation into squamous cell carcinoma, therefore the importance of regular skin checks.
KEYWORDS – Porokeratosis; Keratinocytes.

Downloads
Download data is not yet available.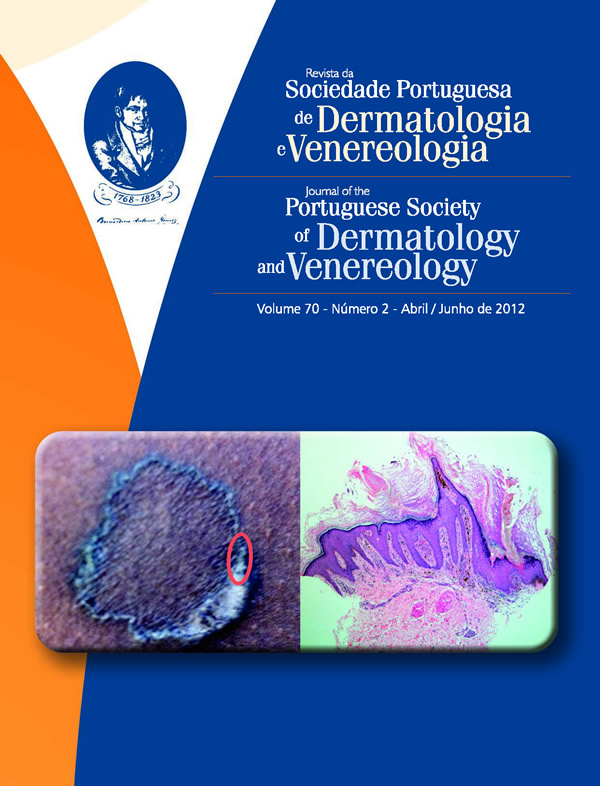 How to Cite
Laureano, A., Macias, V. C., & Pacheco, F. A. (2013). POROKERATOSIS OF MIBELLI – A CASE REPORT. Journal of the Portuguese Society of Dermatology and Venereology, 70(2), 209. https://doi.org/10.29021/spdv.70.2.28
All articles in this journal are Open Access under the Creative Commons Attribution-NonCommercial 4.0 International License (CC BY-NC 4.0).