PERIPHERAL NERVE BLOCK OF THE FOOT – UTILITY IN DERMATOLOGIC SURGERY
Vera Teixeira

Interna do Internato Complementar de Dermatologia e Venereologia/Resident, Dermatology and Venereology

Rita Cabral

Interna do Internato Complementar de Dermatologia e Venereologia/Resident, Dermatology and Venereology

Ricardo Vieira

Assistente Hospitalar de Dermatologia e Venereologia/Consultant, Dermatology and Venereology

Américo Figueiredo

Director de Serviço; Professor Doutor de Dermatologia e Venereologia dos Hospitais da Universidade de Coimbra/ Head of Dermatology Department; Professor of Dermatology and Venereology of Coimbra University Serviço de Dermatologia, Hospitais da Universidade de Coimbra, EPE, Coimbra, Portugal
Abstract
Introduction: Skin cancer of the feet require quick surgical management with the less as possible organic impact, especially in elderly patients with multiple comorbidities. The techniques of regional block anesthesia are relatively easy to perform and safe when performed rigorously.
Discussion: The sensitive innervation of the feet depends on five nervous branches: posterior tibial nerve, deep peroneal nerve, superficial peroneal nerve, sural nerve and saphenous nerve. The authors discuss the anesthesia techniques and possible complications.
Conclusions: The techniques of anesthesia of peripheral nerves of the feet can achieve success rates of 95% and optimize the resources available in dermatologic surgery.
KEYWORDS – Nerve Block; Peripheral Nerves; Foot; Skin Diseases.

Downloads
Download data is not yet available.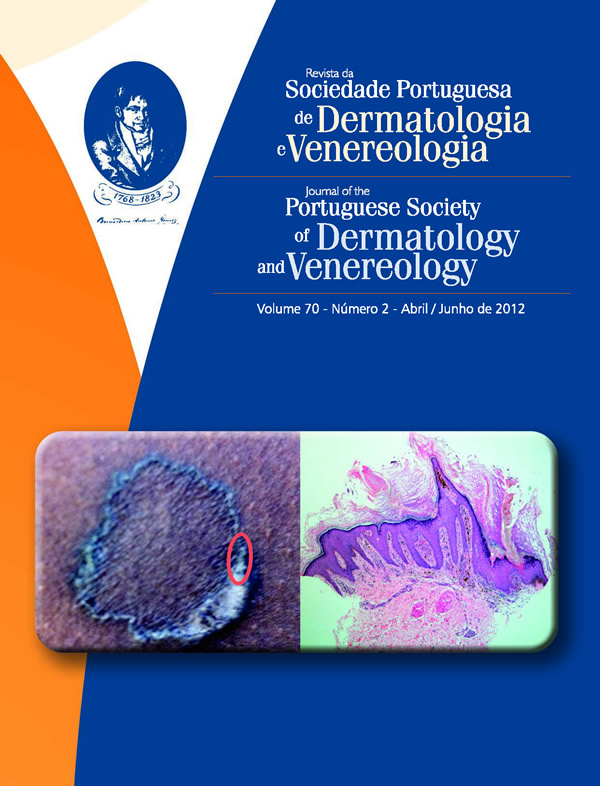 How to Cite
Teixeira, V., Cabral, R., Vieira, R., & Figueiredo, A. (1). PERIPHERAL NERVE BLOCK OF THE FOOT – UTILITY IN DERMATOLOGIC SURGERY. Journal of the Portuguese Society of Dermatology and Venereology, 70(2), 161. https://doi.org/10.29021/spdv.70.2.22
Section
Continuous Medica Education
All articles in this journal are Open Access and meet the requirements of funding bodies or academic institutions. Each article published in the Journal is published under the Creative Commons Attribution-NonCommercial-NoDerivatives 4.0 International License (CC BY-NC-ND 4.0). Articles can be read, downloaded, printed, and shared.
Submission of an article for publication implies the authors' consent to publication under the applicable Creative Commons license and the terms and conditions of the Publisher's Licensing Agreement.
It is the author's responsibility to obtain permission to reproduce illustrations, tables, etc. from other publications.
Upon acceptance of an article, authors will be asked to complete a 'Journal Publishing Agreement'. An e-mail will be sent to the corresponding author confirming receipt of the manuscript together with a 'Journal Publishing Agreement' form or a link to the online version of this agreement.
Author rights: As an author you (or your employer or institution) have certain rights to reuse your work.
The Journal reserves the right to use plagiarism detection software on any submitted material.