NON-MELANOMA SKIN CANCER IN A DEPARTMENT OF DERMATOLOGY – A 5-YEAR REVIEW
Pedro Andrade

Interno do Internato Complementar de Dermatologia e Venereologia/Resident, Dermatology and Venereology

Maria Manuel Brites

Assistente Hospitalar de Dermatologia e Venereologia/Consultant, Dermatology and Venereology

Ricardo Vieira

Assistente Hospitalar de Dermatologia e Venereologia/Consultant, Dermatology and Venereology

Angelina Mariano

Assistente Hospitalar Graduada de Dermatologia e Venereologia/ Graduated Consultant, Dermatology and Venereology

José Pedro Reis

Assistente Hospitalar Graduada de Dermatologia e Venereologia/ Graduated Consultant, Dermatology and Venereology

Óscar Tellechea

Chefe de Serviço; Professor Doutor de Dermatologia e Venereologia/ Consultant Chief, Professor of Dermatology and Venereology

Américo Figueiredo

Director de Serviço; Professor Doutor de Dermatologia e Venereologia dos Hospitais da Universidade de Coimbra/ Head of Dermatology Department; Professor of Dermatology and Venereology of Coimbra University Serviço de Dermatologia, Hospitais da Universidade de Coimbra, EPE, Coimbra, Portugal
Abstract
Non-melanoma skin cancer (NMSC), common designation for both basal cell carcinomas (BCC) and squamous cell carcinomas (SCC), is the most frequent malignant skin neoplasm. The authors have performed a retros- pective analysis of all patients diagnosed with NMSC based on histopathologic analysis of all incisional or excisional skin biopsies performed between 2004 and 2008 in a Department of Dermatology. A total of 3075 NMSC were iden- tified, representing 88% of all malignant skin neoplasms (n=3493) diagnosed in the same period. Of those, 68,3% were BCC. Most NMSC patients were female and over 60 years old. Of all NMSC, 81,7% (n=1443) were located in sun-exposed skin, and represented 95,1% of malignant skin neoplasms in sun-exposed skin. NMSC was the most frequent malignant skin neoplasm in most topographic locations, except for abdomen and pelvis – over 95% of all malig- nant skin neoplasms in the face, neck and scalp were NSMC. BCC was clearly predominant in all locations, except in upper and lower limbs, lower lip and genitals, where SCC represented respectively 77,7%, 77,4%, 94,7% and 95,3% of NMSC.
Being the most common skin cancer, NMSC should be under constant surveillance, in order to monitor its epidemiologic dynamics, the efficiency of preventive measures and the adaptation of the healthcare resources.
KEYWORDS – Skin Neoplasms; Carcinoma, Basal Cell; Carcinoma, Squamous Cell.

Downloads
Download data is not yet available.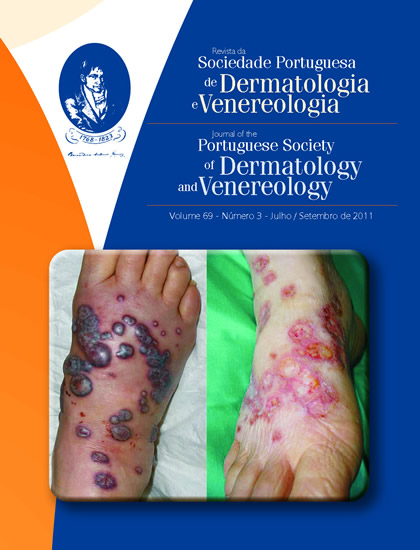 How to Cite
Andrade, P., Brites, M. M., Vieira, R., Mariano, A., Reis, J. P., Tellechea, Óscar, & Figueiredo, A. (2011). NON-MELANOMA SKIN CANCER IN A DEPARTMENT OF DERMATOLOGY – A 5-YEAR REVIEW. Journal of the Portuguese Society of Dermatology and Venereology, 69(3), 421. https://doi.org/10.29021/spdv.69.3.78
Section
Original Articles
All articles in this journal are Open Access and meet the requirements of funding bodies or academic institutions. Each article published in the Journal is published under the Creative Commons Attribution-NonCommercial-NoDerivatives 4.0 International License (CC BY-NC-ND 4.0). Articles can be read, downloaded, printed, and shared.
Submission of an article for publication implies the authors' consent to publication under the applicable Creative Commons license and the terms and conditions of the Publisher's Licensing Agreement.
It is the author's responsibility to obtain permission to reproduce illustrations, tables, etc. from other publications.
Upon acceptance of an article, authors will be asked to complete a 'Journal Publishing Agreement'. An e-mail will be sent to the corresponding author confirming receipt of the manuscript together with a 'Journal Publishing Agreement' form or a link to the online version of this agreement.
Author rights: As an author you (or your employer or institution) have certain rights to reuse your work.
The Journal reserves the right to use plagiarism detection software on any submitted material.