DERMOSCOPY IN THE DIAGNOSIS OF COMPOUND TUMORS – A CLINICAL REPORT
André Laureano

Interno do Internato Complementar de Dermatologia e Venereologia/Resident, Dermatology and Venereology, Serviço de Dermatologia, Hospital de Curry Cabral – Centro Hospitalar de Lisboa Central, Portugal

Cândida Fernandes

Assistente Hospitalar Graduada de Dermatologia e Venereologia/Graduated Consultant, Dermatology and Venereology, Serviço de Dermatologia, Hospital de Curry Cabral – Centro Hospitalar de Lisboa Central, Portugal

Jorge Cardoso

Chefe de Serviço de Dermatologia e Venereologia, Director do Serviço/Chief and Head of Dermatology Department, Serviço de Dermatologia, Hospital de Curry Cabral – Centro Hospitalar de Lisboa Central, Portugal
Keywords:
Dermoscopy, Skin neoplasms
Abstract
The coexistence of more than one neoplasm in a single cutaneous specimen is uncommon and has been defined as collision or compound tumor. The authors describe a 66-year-old man who presented with a contiguous seborrheic keratosis and a basal cell carcinoma on the left malar region that had developed in about one year. The case was investigated clinically and focusing on the dermoscopic features and histopathological correlates. Dermoscopy of the lesion revealed milia-like cysts corresponding to the verrucous part of the lesion, whereas the erythema at the periphery disclosed a few arborizing vessels. Histologically the lesion was a seborrheic keratosis and a basal cell carcinoma. Hence, histopathology confirmed the dermoscopic diagnosis of a compound tumor. Dermoscopy is not only an important aid to the diagnosis of cutaneous collision tumors but might additionally turn the attention of histopathologists to any peculiar feature of a given lesion.
Downloads
Download data is not yet available.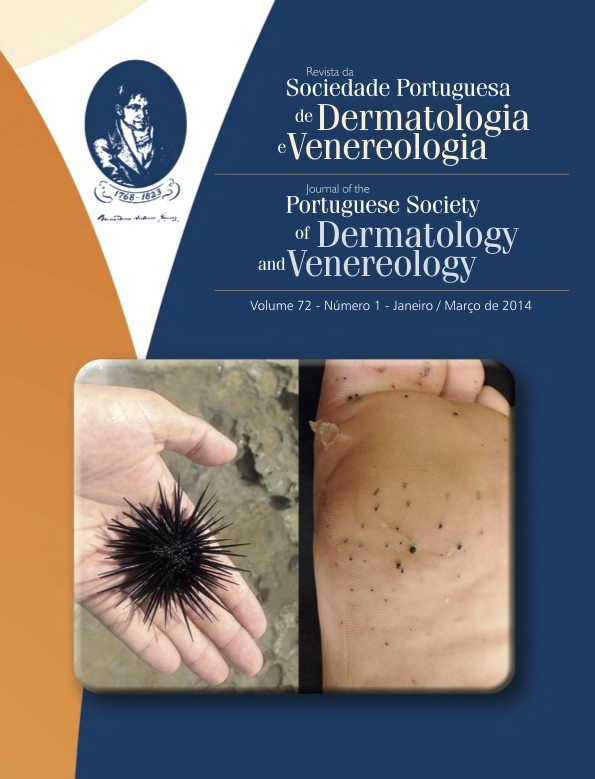 How to Cite
Laureano, A., Fernandes, C., & Cardoso, J. (2014). DERMOSCOPY IN THE DIAGNOSIS OF COMPOUND TUMORS – A CLINICAL REPORT. Journal of the Portuguese Society of Dermatology and Venereology, 72(1), 109-112. https://doi.org/10.29021/spdv.72.1.230
Section
Dermatoscopy Article
All articles in this journal are Open Access under the Creative Commons Attribution-NonCommercial 4.0 International License (CC BY-NC 4.0).