ZOSTERIFORM MORPHEA
André Laureano

Interno do Internato Complementar de Dermatologia e Venereologia/Resident, Dermatology and Venereology, Serviço de Dermatologia, Hospital de Curry Cabral – Centro Hospitalar de Lisboa Central, Portugal

Gabriela Marques Pinto

Assistente Hospitalar Graduada de Dermatologia e Venereologia/Graduated Consultant, Dermatology and Venereology, Serviço de Dermatologia, Hospital de Curry Cabral – Centro Hospitalar de Lisboa Central, Portugal

Jorge Cardoso

Chefe de Serviço de Dermatologia e Venereologia, Director do Serviço/Chief and Head of Dermatology Department, Serviço de Dermatologia, Hospital de Curry Cabral – Centro Hospitalar de Lisboa Central, Portugal
Keywords:
Herpes zoster, Pigmentation disorders, PUVA therapy, Scleroderma, localized
Abstract
A wide variety of pathogenically unrelated skin diseases may follow a zosteriform distribution pattern. Zosteriform morphea is a rare and recently described pattern of presentation of this localized sclerosis of the skin. We report the case of a 26-year old woman with morphea presenting with a zosteriform pattern without a preceding herpes zoster infection. She was treated with topical PUVA for a total of 10 sessions of treatment and a total UVA dose of 16 J/cm2. Marked softening of the sclerotic plaques was seen. This is the first report of its successfully and safe use in the rare zosteriform presentation.
Downloads
Download data is not yet available.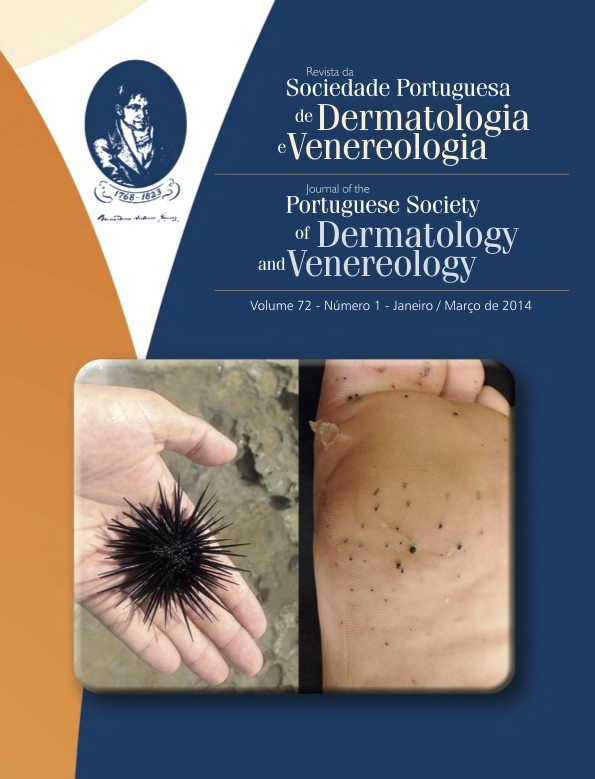 How to Cite
Laureano, A., Pinto, G. M., & Cardoso, J. (2014). ZOSTERIFORM MORPHEA. Journal of the Portuguese Society of Dermatology and Venereology, 72(1), 135-137. https://doi.org/10.29021/spdv.72.1.236
All articles in this journal are Open Access under the Creative Commons Attribution-NonCommercial 4.0 International License (CC BY-NC 4.0).