VASCULAR PATTERNS AND MORPHOLOGY IN DERMOSCOPY - PART II. CLINICAL PRACTICE
André Laureano

Interno do Internato Complementar de Dermatologia e Venereologia/Resident, Dermatology and Venereology, Hospital de Curry Cabral - Centro Hospitalar de Lisboa Central, Portugal; Master of Science (MSc) in Dermoscopy and Preventive Dermato-Oncology, Medical University of Graz, Austria

Cândida Fernandes

Assistente Hospitalar Graduada de Dermatologia e Venereologia/Graduated Consultant, Dermatology and Venereology, Hospital de Curry Cabral - Centro Hospitalar de Lisboa Central, Portugal

Jorge Cardoso

Chefe de Serviço de Dermatologia e Venereologia, Director do Serviço/Chief and Head of Dermatology Department Serviço de Dermatologia, Hospital de Curry Cabral - Centro Hospitalar de Lisboa Central, Portugal
Keywords:
actinic, Carcinoma, basal cell, intradermal, Dermoscopy, Melanoma, Skin neoplasms, Keratosis, seborrheic, squamous cell, Nevus, Epithelioid and spindle cell
Abstract
Dermoscopy is a noninvasive, in vivo technique that increases the diagnostic accuracy in both melanocytic and nonmelanocytic skin tumors. In nonpigmented tumors it allows the visualization of vascular structures not visible to the naked eye. Part II of this article discusses clinical applications of dermoscopy in non-pigmented tumoral skin lesions.
Downloads
Download data is not yet available.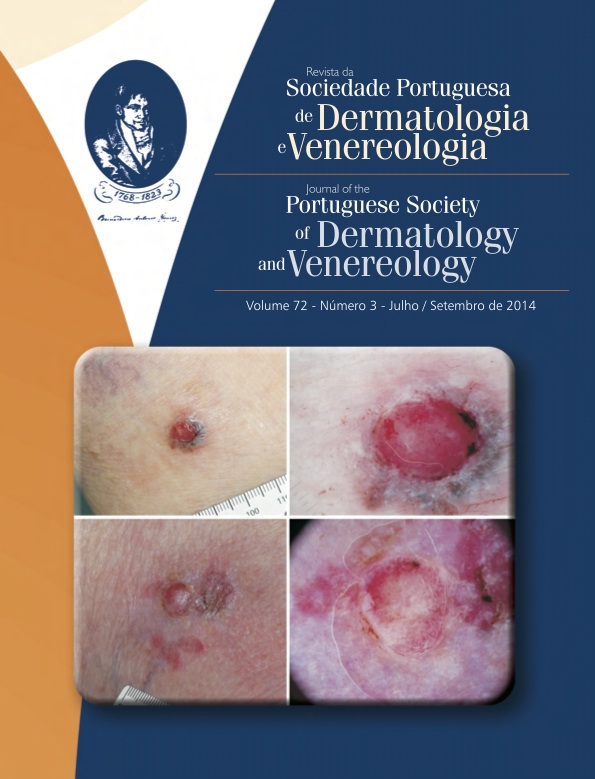 How to Cite
Laureano, A., Fernandes, C., & Cardoso, J. (1). VASCULAR PATTERNS AND MORPHOLOGY IN DERMOSCOPY - PART II. CLINICAL PRACTICE. Journal of the Portuguese Society of Dermatology and Venereology, 72(3), 307-324. https://doi.org/10.29021/spdv.72.3.273
Section
Continuous Medica Education
All articles in this journal are Open Access under the Creative Commons Attribution-NonCommercial 4.0 International License (CC BY-NC 4.0).