ALLERGIC CONTACT DERMATITIS TO AN EYELID SHADOW
Catarina Araújo

Interna do Internato Complementar de Dermatologia e Venereologia/Resident, Dermatology and Venereology, Serviço de Dermatologia e Venereologia, Hospital de Braga, Sete Fontes – São Victor, Braga, Portugal

Cristina Resende

Interna do Internato Complementar de Dermatologia e Venereologia/Resident, Dermatology and Venereology, Serviço de Dermatologia e Venereologia, Hospital de Braga, Sete Fontes – São Victor, Braga, Portugal

Teresa Pereira

Assistente Hospitalar de Dermatologia e Venereologia/Consultant, Dermatology and Venereology, Serviço de Dermatologia e Venereologia, Hospital de Braga, Sete Fontes – São Victor, Braga, Portugal

Celeste Brito

Chefe de Serviço, Directora do Serviço de Dermatologia e Venereologia/Consultant Chief, Head of Department of Dermatology and Venereology, Serviço de Dermatologia e Venereologia, Hospital de Braga, Sete Fontes – São Victor, Braga, Portugal
Keywords:
Allergic contact dermatitis, Eyelid, Shadow, Make-up, Nickel
Abstract
Introduction: The published percentage of patients with eyelid dermatitis from cosmetic exposure lies between 2.5% and 26%. Pigmented make-up may contain metal allergens, including nickel, chromium and cobalt.
Case report: A 52-year-old atopic woman, hairdresser, with a 7-month history of itching, erythema and scaling of both eyelids. Her medical history revealed earlobe dermatitis in childhood. She was referred for patch-testing in our contact allergy department with baseline series from Portuguese Contact Dermatitis group (GPEDC), cosmetic and hairdresser series and the patient´s own products in semi-open test. Positive reactions were observed to nickel sulphate 5% in petrolatum (++ at D3) and valentina D kejal®, grey eye shadow (++ at D3).
Conclusions: Cosmetics are a potentially sensitizing source, on thin facial skin and especially for atopic woman, who have a damaged skin barrier that may favour penetration of allergens, allowing lower nickel concentrations, even as a contaminant, to trigger an eyelid reaction.
Downloads
Download data is not yet available.
References
Borrie P. Eczema of the eyelids. Br J Ophthalmol 1956; 40:742-50.
Kaalund-Jorgensen O. Eczema perioculare (dermatitis of the eyelids) Acta Derm Venereol 1951; 31:83-90.
Andersen KE, White IR, Goossens A. Allergens from the standard series. In: Frosch PJ, Menné T, Lepoittevin JP, editors. Contact dermatitis, 4th ed. New York. Springer; 2006. p. 455.
Corazza M, Baldo F, Pagnoni A et al. Measurement of nickel, cobalt and chromium in toy make-up by atomic absorption spectroscopy. Acta Derm Venereol. 2009; 89(2):130-3.
European Commission Regulation no. 1223/2009 of the European Parliament and of the Council of 30 November 2009 on cosmetic products: annex II: 1093.
Travassos AR, Bruze M, Dahlin J et al. Allergic contact dermatitis caused by nickel in a green eye pencil. Contact Dermatitis 2011: 65:302-9.
Karlberg AT, Liden C, Ehrin E. Colophony in mascara as a cause of eyelid dermatitis. Chemical analyses and patch testing. Acta Derm Venereol 1991: 71:445-7.
Goh CL, Ng SK, Kwok SF. Allergic contact dermatitis from nickel in eyeshadow. Contact Dermatitis 1989; 20:380-1.
Foulds I S. Facial eczema due to colour pigments in foundationmakeup in nickel-sensitive patients. Contact Dermatitis 2006: 55 (Suppl. 1):11.
Henke U, Boehncke W. Eyelid dermatitis caused by an eyelash former. Contact Dermatitis 2005:532-7.
Thyssen JP, Linneberg A, Menne T et al. No association between nickel allergy and reporting cosmetic dermatitis from mascara or eye shadow: a cross-sectional general population study. J Eur Acad DermatolVenereol 2010: 24:722-5.
Loden M, Nilsson G, Parvardeh M et al. No skin reactions to mineral powders in nickel-sensitive subjects. Contact Dermatitis 2012; 66:210-4.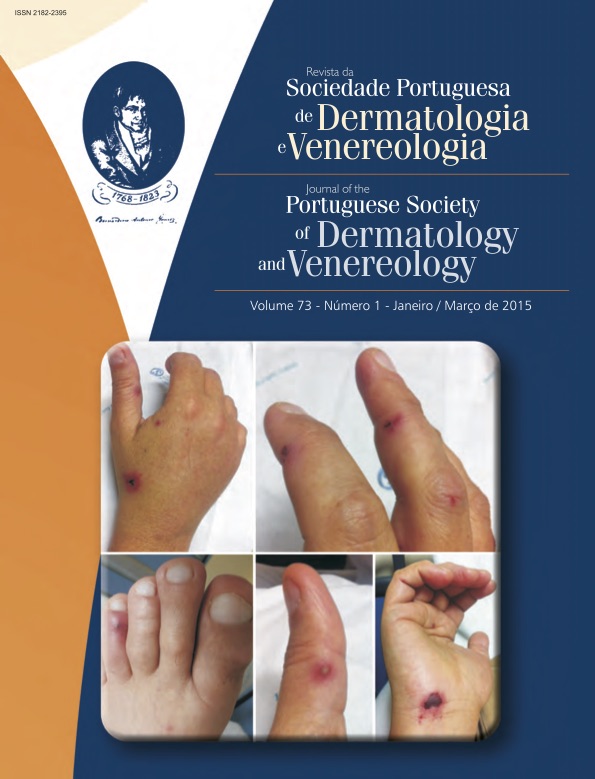 How to Cite
Araújo, C., Resende, C., Pereira, T., & Brito, C. (2015). ALLERGIC CONTACT DERMATITIS TO AN EYELID SHADOW. Journal of the Portuguese Society of Dermatology and Venereology, 73(1), 119-122. https://doi.org/10.29021/spdv.73.1.352
Section
Grupo Português de Estudo das Dermites de Contacto (GPEDC)
All articles in this journal are Open Access under the Creative Commons Attribution-NonCommercial 4.0 International License (CC BY-NC 4.0).