CUTANEOUS LEUKOCYTOCLASTIC VASCULITIS INDUCED BY PROPYLTHIOURACIL
Diogo Matos

Interno do Internato Complementar de Dermatologia e Venereologia/Resident, Dermatology and Venereology, Hospital Garcia de Orta, Almada, Portugal

Hugo Barreiros

Dermatologista/Dermatologist, Centro Dermatologia Epidermis, Instituto CUF, Porto, Portugal

Ricardo Coelho

Assistente Hospitalar de Dermatologia e Venereologia/Consultant, Dermatology and Venereology, Hospital Garcia de Orta, Almada, Portugal

Elvira Bártolo

Chefe de Serviço de Dermatologia e Venereologia, Directora do Serviço de Dermatologia e Venereologia/Chief and Head of Dermatology and Venereology Department, Hospital Garcia de Orta, Almada, Portugal

Ana Glória Fonseca

Assistente Hospitalar de Medicina Interna/Consultant, Internal Medicine, Hospital Garcia de Orta, Almada, Portugal

Vitória Cunha

Interna do Internato Complementar de Medicina Interna/Resident, Internal Medicine, Hospital Garcia de Orta, Almada, Portugal
Keywords:
Antibodies, antineutrophil cytoplasmic, Propylthiouracil, adverse effects, Vasculitis, leukocytoclastic, cutaneous
Abstract
Propylthiouracil (PTU) is widely used in the treatment of Hyperthyroidism. Usually well tolerated, it is though associated with antineutrophil cytoplasmic antibodies (ANCA) and, less frequently, with late-onset ANCA positive vasculitis. The authors describe the clinical case of a 45-year-old female patient with Graves' disease for which she was being treated with PTU since 3 years before, who developed an ANCA-positive cutaneous leukocytoclastic vasculitis without systemic involvement. Initially seen as idiopathic the vasculitis was posteriorly associated with PTU. The drug was discontinued with a progressive and maintained recovery. The patient remains asymptomatic with 3 years of follow-up.
Downloads
Download data is not yet available.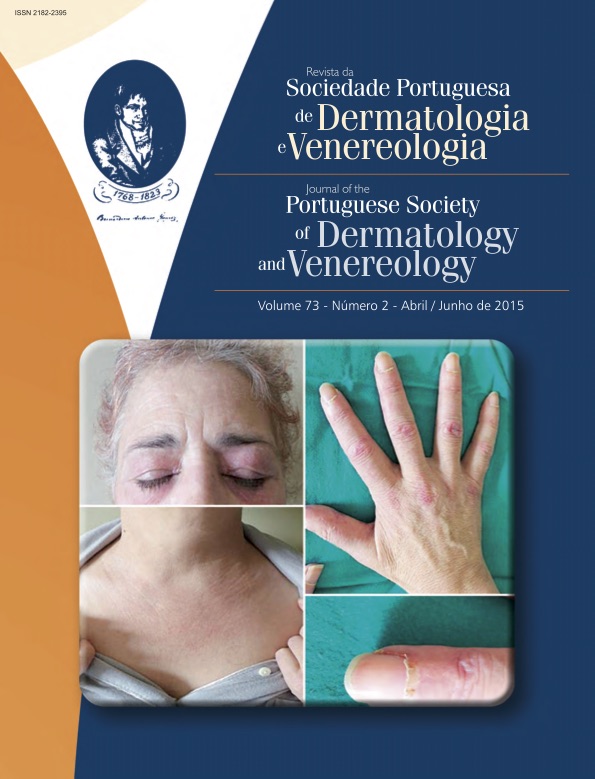 How to Cite
Matos, D., Barreiros, H., Coelho, R., Bártolo, E., Fonseca, A. G., & Cunha, V. (1). CUTANEOUS LEUKOCYTOCLASTIC VASCULITIS INDUCED BY PROPYLTHIOURACIL. Journal of the Portuguese Society of Dermatology and Venereology, 73(2), 287-291. https://doi.org/10.29021/spdv.73.2.379
All articles in this journal are Open Access and meet the requirements of funding bodies or academic institutions. Each article published in the Journal is published under the Creative Commons Attribution-NonCommercial-NoDerivatives 4.0 International License (CC BY-NC-ND 4.0). Articles can be read, downloaded, printed, and shared.
Submission of an article for publication implies the authors' consent to publication under the applicable Creative Commons license and the terms and conditions of the Publisher's Licensing Agreement.
It is the author's responsibility to obtain permission to reproduce illustrations, tables, etc. from other publications.
Upon acceptance of an article, authors will be asked to complete a 'Journal Publishing Agreement'. An e-mail will be sent to the corresponding author confirming receipt of the manuscript together with a 'Journal Publishing Agreement' form or a link to the online version of this agreement.
Author rights: As an author you (or your employer or institution) have certain rights to reuse your work.
The Journal reserves the right to use plagiarism detection software on any submitted material.