HEREDITHARY HEMOCROMATOSIS TYPE 1 PRESENTED AS PORPHYRIA CUTANEA TARDA – CASE REPORT OF A COMPOUND HETEROZYGOTE PATIENT FOR THE MUTATIONS C282Y AND H63D
Tiago Mestre

Interno do complementar de Dermatologia e Venereologia/Resident, Dermatology and Venereology

Ana Maria Rodrigues

Assistente Hospitalar Graduada de Dermatologia e Venereologia/Graduated Consultant, Dermatology and Venereology Serviço de Dermatologia e Venereologia, Hospital Curry Cabral – CHLC, Lisboa, Portugal

Jorge Cardoso

Chefe de Serviço e Director do Serviço de Dermatologia e Venereologia/Consultant Chief and Head of Dermatology and Venereology Department Serviço de Dermatologia e Venereologia, Hospital Curry Cabral – CHLC, Lisboa, Portugal
Keywords:
Hemochromatosis, Porphyria cutanea tarda, Iron metabolism disorders, Iron overload
Abstract
Porphyria cutanea tarda (PCT) is a disorder of porphyrin metabolism with associated skin photosensitivity, which presents with vesicolobullous lesions, atrophic scars and frequently signs of liver damage. Herditary hemochromathosis (HH) is the most frequent autosomic recessive genetic disease.
We present the case of a previous healthy 38 years old patient that came to our office with blisters in face, extensor surfaces of arms and on the dorsum of his hands associated with hypertrichosis in zygomatic area and milia on the dorsum of the hands. Laboratory tests showed serum and urinary porphyrins level, serum iron level and ferritin exceeding the normal range. A diagnosis of porphyria cutanea tarda was reached based on clinical presentation, histopathological examination and laboratory results. Genetic studies on Hereditary Hemochromathosis mutations showed a compound heterozygote patient for the most common mutations: C282Y, H63D. Porphyria cutanea tarda can be an important cutaneous marker for patients with mutations of the HH gene. Skin signs can have a key role in early diagnosis, avoiding future complications, and requesting genetic counseling and genetic testing for the children of the affected patients.
Downloads
Download data is not yet available.
References
Sams H, Kiripolsky MG, Bhat L, Stricklin GP. Porphyriacutanea tarda, hepatitis C, alcoholism and hemochromatosis:
a case report and review of the literature. Cutis. 2004; 73:188-90.
Parkkila S, Niemelä O, Britton RS, Fleming RE, Waheed A, Bacon BR, et al. Molecular aspects of iron absorption
and HFE expression. Gastroenterology. 2001; 121:1489-96.
Papanikolaou G, Samuels ME, Ludwig EH, et al. Mutations in HFE2 cause iron overload in chromosome
q-linked juvenile hemochromatosis. Nat Genet. Jan 2004; 36:77-82.
Mehrany K, Drage LA, Brandhagen DJ, Pittelkow MR. Association of porphyria cutanea tarda with hereditary hemochromatosis. J Am Acad Dermatol. 2004; 51:205-11.
Lambrecht RW, Bonkovsky HL. Hemochromatosis and porphyria. Semin Gastrointest Dis.2002;13:109-19.
A. Ramírez-Santos D, González-Vilas J, García-Gavín J, Concheiro D, Sánchez-Aguilar D, Toribio J. Porfiria cutanea
tarda y hemocromatosis en Espana. Actas Dermosifiliogr. 2009;100:329-43.
Sarkany RP. The management of porphyria cutanea tarda. Clin Exp Dermatol. 2001;26:225-32.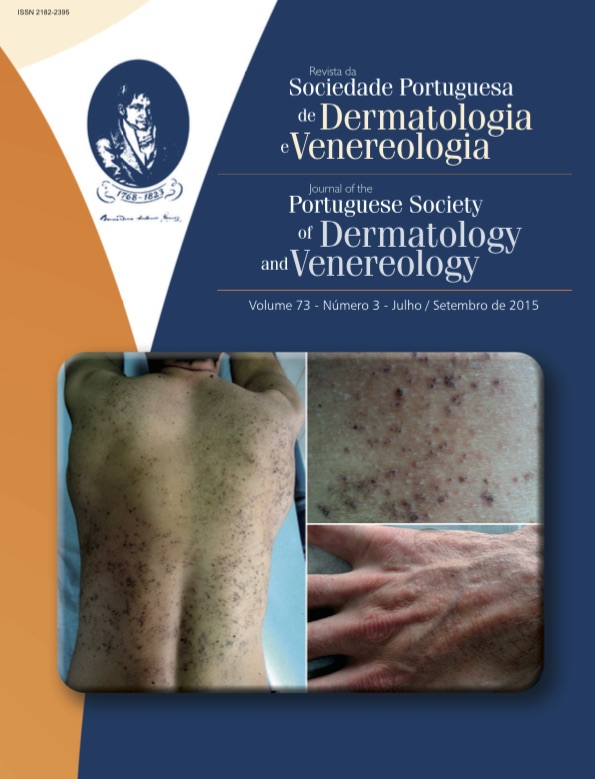 How to Cite
Mestre, T., Rodrigues, A. M., & Cardoso, J. (2015). HEREDITHARY HEMOCROMATOSIS TYPE 1 PRESENTED AS PORPHYRIA CUTANEA TARDA – CASE REPORT OF A COMPOUND HETEROZYGOTE PATIENT FOR THE MUTATIONS C282Y AND H63D. Journal of the Portuguese Society of Dermatology and Venereology, 73(3), 379-382. https://doi.org/10.29021/spdv.73.3.462
All articles in this journal are Open Access under the Creative Commons Attribution-NonCommercial 4.0 International License (CC BY-NC 4.0).