COMEDONAL DARIER'S DISEASE
Tiago Mestre

Interno do complementar de Dermatologia e Venereologia/Resident, Dermatology and Venereology

Fernando Assis Pacheco

Chefe de Serviço de Dermatologia e Venereologia/Consultant Chief, Dermatology and Venereology

António Lázaro

Chefe de Serviço e Director do Serviço de Anatomia Patológica/Consultant Chief and Head of Pathology Department Serviço de Dermatologia e Venereologia, Hospital Curry Cabral – CHLC, Lisboa, Portugal

Jorge Cardoso

Chefe de Serviço e Director do Serviço de Dermatologia e Venereologia/Consultant Chief and Head of Dermatology and Venereology Department Serviço de Dermatologia e Venereologia, Hospital Curry Cabral – CHLC, Lisboa, Portugal
Keywords:
Darier disease, Sarcoplasmic reticulum calcium-transporting ATPases
Abstract
Darier disease is an autosomal dominant dermatosis caused by the mutation of the ATP2A2 gene. There are rarer clinical variants showing atypical skin lesions like the hypertrophic, vesicobollous, hypopigmented, and comedonal subtypes. We present the case of a 28-years-old healthy man with more than hundred pruritic open comedone-like hyperkeratotic dark papules of the upper and lower back. Histological examination showed dilated follicular infundibulum, containing keratotic material, suprabasal acantholysis and dyskeratotic cells compatible with comedonal Darier disease. There are less than 10 published cases of this clinical and histological subtype.
Downloads
Download data is not yet available.
References
Chung J, Kim JY, Gye J, Namkoong S, Hong SP, Park BC, et al. A case of familial comedonal Darier's disease. Ann Dermatol. 2011; 23(Suppl 3): S398-S401.
Lora V, Cota C, Grammatico P, Pedace L, Kerl H, Cerroni L. Comedonal Darier disease: Report of 2 cases. J Am Acad Dermatol. 2013; 69(6):e307-9.
Bchetnia M, Charfeddine C, Kassar S, Zribi H, Guettiti HT, Ellouze F, et al. Clinical and mutational heterogeneity of Darier disease in Tunisian families. Arch Dermatol. 2009;145:654-6.
Jones I, Jacobsen N, Green EK, Elvidge GP,Owen MJ, Craddock N. Evidence for familial cosegregation of major affective disorder and genetic markers flanking the gene for Darier's disease. Mol Psychiatry. 2002; 7(4):424-7.
Tsuruta D, Akiyama M, Ishida-Yamamoto A, Imanishi H, Mizuno N, Sowa J, et al. Three-base deletion mutation c.120_122delGTT in ATP2A2 leads to the unique phenotype of comedonal Darier disease. Br J Dermatol. 2010;162(3):687-9.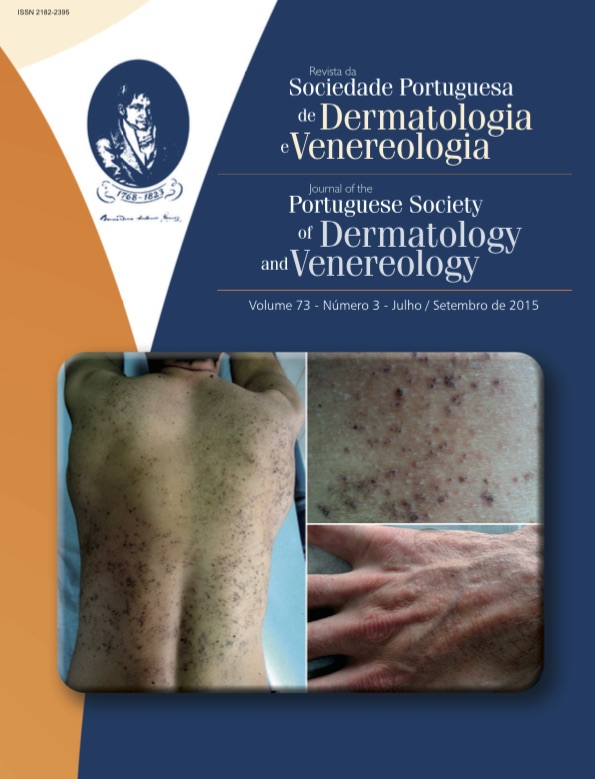 How to Cite
Mestre, T., Assis Pacheco, F., Lázaro, A., & Cardoso, J. (2015). COMEDONAL DARIER'S DISEASE. Journal of the Portuguese Society of Dermatology and Venereology, 73(3), 389-392. https://doi.org/10.29021/spdv.73.3.464
All articles in this journal are Open Access under the Creative Commons Attribution-NonCommercial 4.0 International License (CC BY-NC 4.0).