ACTINIC GRANULOMA OF O'BRIEN – RESPONSE TO GRISEOFULVIN
Carolina Pelegrin Tonin

Médica Estagiária do Serviço de Dermatologia/Student, Dermatology, Faculdade de Medicina do ABC-São Paulo (SP), Brasil

Claudia De Nadai Pereira

Médica Residente em Dermatologia/Resident, Dermatology, Faculdade de Medicina do ABC-São Paulo (SP), Brasil

Flávia Cury Rezende

Médica Residente em Dermatologia/Resident, Dermatology, Faculdade de Medicina do ABC-São Paulo (SP), Brasil

Nobuo Matsunaga

Médico Dermatologista/Dermatologist, Faculdade de Medicina do ABC-São Paulo (SP), Brasil

Gilles Landman

Médico Dermatopatologista/Dermatopathologist, Serviço de Dermatologia da Faculdade de Medicina do ABC-São Paulo (SP), Brasil

Carlos D'Apparecida Machado Fillo

Médico Dermatologista, Chefe da Disciplina de Dermatologia/Dermatologist, Professor of Dermatology, Faculdade de Medicina do ABC-São Paulo (SP), Brasil
Keywords:
Granuloma, Giant Cell, Griseofulvin
Abstract
Actinic granuloma of O'Brien, also called annular elastolytic giant cell granuloma is a rare condition. It shows clinically as papules lesions that converge in annular plaques lesions with an atrophic center. Histologically, it evidences elastophagocytosis and elastolysis. The case below describes a female patient, 53 years old, that had classical clinical and histopathological lesions of actinic granuloma that showed a significant improvement upon the introduction of adjunctive griseofulvin therapy.
Downloads
Download data is not yet available.
References
Lazzarini R, Rotter A, Farias DC, Muller H. Granuloma actínico de O'Brien: apresentação clínica exuberante. An Bras Dermatol. 2011;86:339-42.
Gonçalvez RR, Miranda MF, Viana FO, Cavaleiro LH, Fonseca DM. Granuloma anular elastolítico gigantocelular: relato de caso. An Bras Dermatol. 2011;86.
Machado Filho CD, faltam autores et al. Granuloma anular elastolítico de células gigantes. Med Cutan Iber Lat Am. 2007;35:156-8.
Muñoz LC, Díaz-Díaz RM, Quesada-Cortés A, Hernández-Cano N, Martín-Díaz MA, Regojo-Zapata RM, et al. Granuloma elastolítico anular de células gigantes: a propósito de un caso localizado en áreas no fotoexpuestas. Actas Dermosifiliogr. 2006; 97:533-5.
Panzarelli A, Camejo O. Granuloma anular elastolítico de células gigantes com buena respuesta a dapsona. Dermatol Venezolana. 2001; 39:27-9.
Ratnavel RC, Grant JW, Handfield-Jones SE, Norris PG. O'Brien's actinic granuloma:response to isotretinoin. J R Soc Med. 1995;88:528-9.
Gregoris JA, Monti JA, Lizarraga V. Granuloma actinico de O'Brien. Rev Argent Dermatol. 2009; 90:86-90.
Nico MMS, Fernandes JD, Lourenço SV. Líquen plano oral. An Bras Dermatol. 2011; 86:633-43.
Watanabe S, Tanaka M, Kobayashi K, Sawada M, Ishizaki S, Tsurui K, et al. Remission of generalized erythematous granuloma annulare after improvement of hyperlipidemia and review of the Japanese literature. Dermatol Pract Concept. 2014;4:97-100.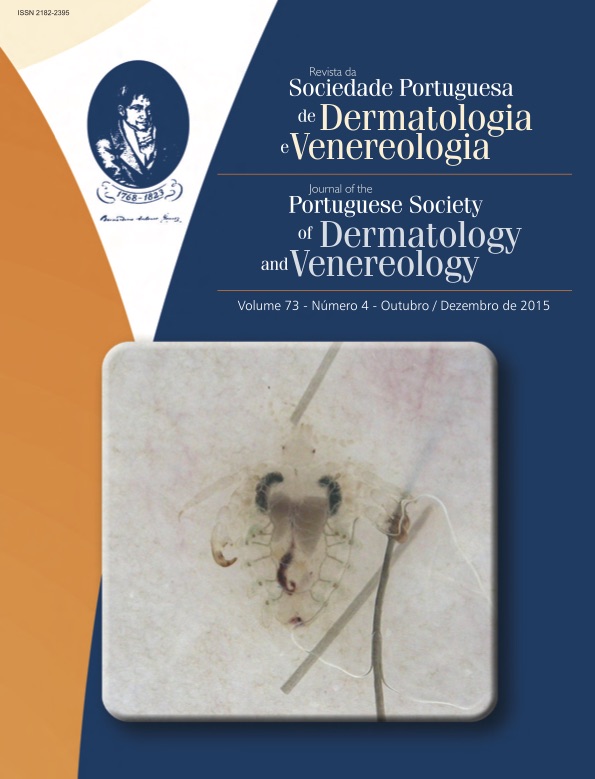 How to Cite
Pelegrin Tonin, C., De Nadai Pereira, C., Cury Rezende, F., Matsunaga, N., Landman, G., & D'Apparecida Machado Fillo, C. (1). ACTINIC GRANULOMA OF O'BRIEN – RESPONSE TO GRISEOFULVIN. Journal of the Portuguese Society of Dermatology and Venereology, 73(4), 489-492. https://doi.org/10.29021/spdv.73.4.492
All articles in this journal are Open Access and meet the requirements of funding bodies or academic institutions. Each article published in the Journal is published under the Creative Commons Attribution-NonCommercial-NoDerivatives 4.0 International License (CC BY-NC-ND 4.0). Articles can be read, downloaded, printed, and shared.
Submission of an article for publication implies the authors' consent to publication under the applicable Creative Commons license and the terms and conditions of the Publisher's Licensing Agreement.
It is the author's responsibility to obtain permission to reproduce illustrations, tables, etc. from other publications.
Upon acceptance of an article, authors will be asked to complete a 'Journal Publishing Agreement'. An e-mail will be sent to the corresponding author confirming receipt of the manuscript together with a 'Journal Publishing Agreement' form or a link to the online version of this agreement.
Author rights: As an author you (or your employer or institution) have certain rights to reuse your work.
The Journal reserves the right to use plagiarism detection software on any submitted material.