Congenital Syringocystadenoma Papilliferum
Yandra Sherring Einecke

Serviço de Dermatologia da Universidade do Estado do Pará, Belém-PA, Brasil

Erica Baptista Pinto

Serviço de Dermatologia da Universidade do Estado do Pará, Belém-PA, Brasil

Samira Oliveira Silveira

Serviço de Dermatologia da Universidade do Estado do Pará, Belém-PA, Brasil

Maria Amélia Lopes dos Santos

Serviço de Dermatologia da Universidade do Estado do Pará, Belém-PA, Brasil

Alena Margareth Darwich Mendes

Serviço de Dermatologia da Universidade do Estado do Pará, Belém-PA, Brasil

Francisca Regina Oliveira Carneiro

Serviço de Dermatologia da Universidade do Estado do Pará, Belém-PA, Brasil; Chefe do Serviço de Dermatologia da Universidade do Estado do Pará, Belém-PA, Brasil
Keywords:
Adenoma, Sweat Gland/congenital, Cystadenoma, Skin Neoplasms, Syringoma
Abstract
Papillary syringocystoadenoma is an uncommon benign adnexal neoplasm, which is preferentially located on the scalp and face, and is associated with sebaceous nevus in 40% of cases. Although rare, its transition to basal cell carcinoma and ductal carcinoma may occur. The authors describe the case of a 7-year-old male patient with a linear papular dermatosis in the neck from birth. Dermatological examination showed erythematous, crateriform, confluent papules, arranged in a band, 3 x 2 cm in the cervical region. The lesion was excised for therapeutic and diagnostic purposes. Histopathology demonstrated epidermal cystic invagination and papillary projections surface by glandular epithelium, with decapitation secretion and abundant lymphoplasmocytic infiltrate. The clinical and histological findings were compatible with the diagnosis of papillary syringocystoadenoma. Despite the clinical variability of this entity, the histopathology is characteristic and the treatment consists in the excision of the lesion.
Downloads
Download data is not yet available.
References
Karg E, Korom I, Varga E, Ban G, Turi S. Congenital syringocystadenoma papilliferum. Pediatr Dermatol. 2008; 25:132-3.
Misago N, Narisawa Y. Syringocystadenoma papilliferum with extensive apocrine nevus. J Dermatol. 2006: 33:303-5.
Lee CK, Jang KT, Cho YS. Tubular apocrine adenoma with syringocystadenoma papilliferum arising from the external auditory canal. J Laryngol Otol. 2005; 119:1004-6.
Yamane N, Kato N, Yanagi T, Osawa R. Naevus sebaceous on the female breast accompanied with a tubular apocrine adenoma and a syringocystadenoma papilliferum. Br J Dermatol. 2007; 156:1397-9.
Rammeh–Rommani S, Fezaa B, Chelbi E, Kammoun MR, Ben Jilani SB, Zermani R. Syringocystadenoma papilliferum: report of 8 cases. Pathologica. 2006; 98:178-80.
Lin WL, Linn WC, Kuo TT, Chen CH, Hong HS. An unusual complex cutaneous adnexal tumor composed of syringocystadenoma papilliferum, apocrine hidrocystoma, and clear cell syringoma. Dermatol Surg. 2007; 33:876-9.
Bruno CB, Cordeiro FN, Soares FS, Takano GS, Mendes LT. Aspectos dermatoscópicos do siringocistoadenoma papilífero associado a nevo sebáceo. An Bras Dermatol. 2011;86:1213-6.
Yoshii N, Kanekura T, Setoyama M, Kanzaki T. Syringocystadenoma papilliferum: report of the first case on the lower leg. J Dermatol. 2004; 31:939-42.
Towsend TC, Bowen AR, Nobuhara KK. Syringcystadenoma papilliferum: as unusual cutaneous lesion in a pediatric patient. J Pediatr. 2004; 145:131-3.
Sood A, Khaitan BK, Khanna N, Kumar R, Singh MK. Syringcystadenoma papilliferum at unusual site. Indian J Dermatol Venerol Leprol. 2000; 66:328-9.
Katoulis AC, Bozi E. Syringocystadenoma papilliferum. Orphanet Encyclopedia. [accessed April 2017] Available from: http://www.orpha.net12.
Sangama MM, Dasiah SD, Bhat VR. Syringcystadenoma papilliferum of the scalp in an adult male: A case report. J Clin Diagn Res. 2013; 7: 742-3. 13.
Katoulis A, Bozi E, Stavrianeas NG. Syringcystadenoma papilliferum. accessed April 2017] Available from: http://www.orpha.net/data/patho/GB/uk-Syringocystadenoma-
papilliferum.pdf
Xu D, Bi T, Lan H, Yu W, Wang W, Cao F, et al. Syringocystadenoma papilliferum in the right lower abdomen: A case report and review of literature. Onco Targets Ther. 2013; 6:233–6.
Shams PN, Hardy TG, El-Bahrawy M, Joshi N. Syringocystadenoma papilliferum of the evelid in a young girl. Ophtal Plast Reconstr Surg. 2006; 22:67-9.
Yamamoto O, Dói Y, Hamada T, Hisaoka M, Sasaguri Y. An immunohistochemical and ultrastructural study of syringocystadenoma papilliferum. Br J Dermatol. 2002; 147 :936-45.
Yap FB, Lee BR, Baba R. Syringocystadenoma papilliferum in an unusual location beyond the head and neck region: a case report and review of literature. Dermatol Online J. 2010; 16:4.
Arai Y, Kusakabe H, Kiyokane K. A case of syringocystadenocarcinoma papilliferum in situ occurring partially in syringocystadenoma papilliferum. J Dermatol. 2003; 30:146–50.
Jordan JA, Brown OE, Biavati MJ, Manning SC. Congenital syringo-cystadenoma papilliferum of the ear and neck treated with the CO2 laser. Int J Pediatr Otorhinolaryngol. 1996;38:81–7.
Chi CC, Tsai RY, Wang SH. Syringocystadenocarcinoma papilliferum: successfully treated with Mohs micrographic surgery. Dermatol Surg. 2004; 30: 468-71.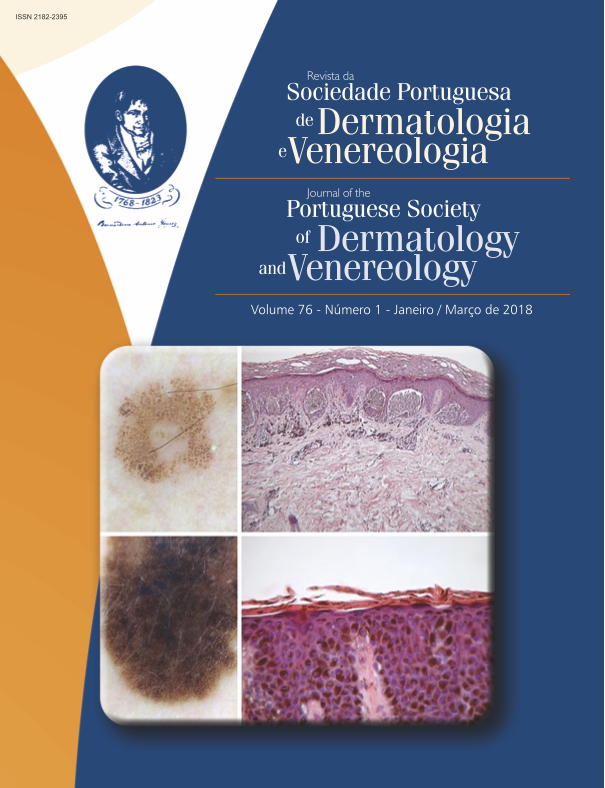 How to Cite
Sherring Einecke, Y., Baptista Pinto, E., Oliveira Silveira, S., Lopes dos Santos, M. A., Darwich Mendes, A. M., & Oliveira Carneiro, F. R. (2018). Congenital Syringocystadenoma Papilliferum. Journal of the Portuguese Society of Dermatology and Venereology, 76(1), 79-82. https://doi.org/10.29021/spdv.76.1.743
All articles in this journal are Open Access under the Creative Commons Attribution-NonCommercial 4.0 International License (CC BY-NC 4.0).