Collision Tumor: A Diagnostic Challenge
Alexandre Miroux Catarino

Médico Interno de Dermatovenereologia/Resident of Dermatology and Venereology, Serviço de Dermatologia, Centro Hospitalar de Lisboa Ocidental, Lisbon, Portugal

Maria Goreti Catorze

Assistente Hospitalar Graduada de Dermatovenereologia, Serviço de Dermatologia, Centro Hospitalar de Lisboa Ocidental, Lisboa, Portugal/Consultant of Dermatology and Venereology, Dermatology Department, Centro Hospitalar de Lisboa Ocidental, Lisbon, Portugal

Ângela Pereira

Assistente Hospitalar de Dermatovenereologia/Consultant of Dermatology and Venereology

Isabel Viana

Assistente Hospitalar Graduada de Dermatovenereologia, Serviço de Dermatologia, Centro Hospitalar de Lisboa Ocidental, Lisboa, Portugal/Consultant of Dermatology and Venereology, Dermatology Department, Centro Hospitalar de Lisboa Ocidental, Lisbon, Portugal
Keywords:
Collision Tumor, Dermoscopy, Neoplasms, Multiple Primary, Nevus, Blue, Skin Neoplasms
Abstract
The coexistence of two or more different neoplasms, benign or malignant, in the same cutaneous lesion is called a "collision tumor". The clinical diagnosis is difficult and dermatoscopy is an often useful tool, however it may not be enlightening. We present the case of a rare association between a blue nevus and a histiocytofibroma that both clinically and dermatoscopically could be confused with malignant melanoma.
Downloads
Download data is not yet available.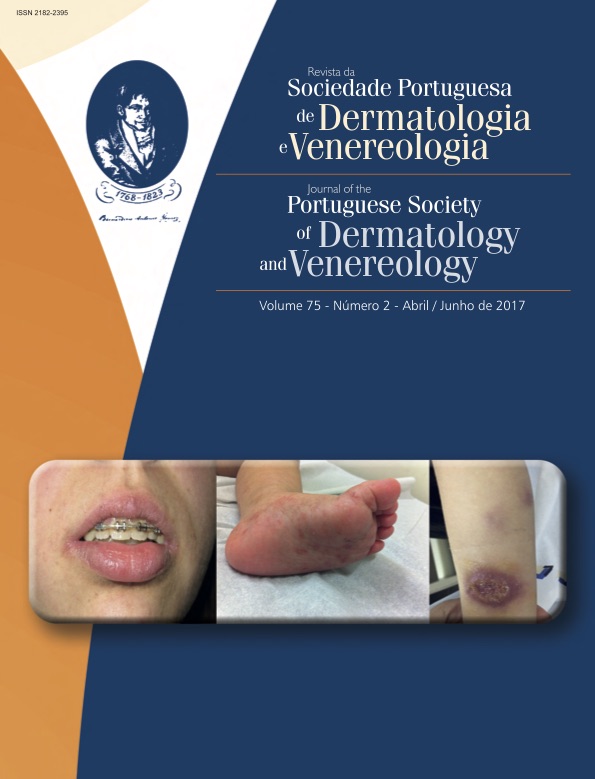 How to Cite
Miroux Catarino, A., Catorze, M. G., Pereira, Ângela, & Viana, I. (2017). Collision Tumor: A Diagnostic Challenge. Journal of the Portuguese Society of Dermatology and Venereology, 75(2), 197-199. https://doi.org/10.29021/spdv.75.2.778
All articles in this journal are Open Access under the Creative Commons Attribution-NonCommercial 4.0 International License (CC BY-NC 4.0).