Perioral Mucocutaneous Infiltration
Mariana Batista

Serviço de Dermatologia, Centro Hospitalar e Universitário de Coimbra, Coimbra, Portugal

http://orcid.org/0000-0003-3442-615X

Diana Ferreira

Serviço de Medicina Interna, Centro Hospitalar e Universitário de Coimbra, Coimbra, Portugal

Francisca Morgado

Serviço de Dermatologia, Centro Hospitalar e Universitário de Coimbra, Coimbra, Portugal

José Carlos Cardoso

Serviço de Dermatologia, Centro Hospitalar e Universitário de Coimbra, Coimbra, Portugal

Maria José Julião

Serviço de Anatomia Patológica, Centro Hospitalar e Universitário de Coimbra, Coimbra, Portugal

Margarida Gonçalo

Serviço de Dermatologia, Centro Hospitalar e Universitário de Coimbra, Coimbra; Clínica de Dermatologia, Faculdade de Medicina da Universidade de Coimbra, Portugal
Keywords:
Autoimmune Diseases, Immunoglobulin G, Sialadenitis, Submandibular Gland Diseases
Abstract
.
Downloads
Download data is not yet available.
References
Weindorf SC, Frederiksen JK. IgG4-related disease: a reminder for practicing pathologists. Arch Pathol Lab Med. 2017; 141:1476-83.
Wolfson AR, Hamilos DL. Recent advances in understanding and managing IgG4-related disease. F1000Res. 2017; 6:185.
Umehara H, Okazaki K, Masaki Y, Kawano M, Yamamoto M, Saeki T, et al. Comprehensive diagnostic criteria for IgG4-related disease (IgG4-RD), 2011. Mod Rheumatol.
; 22:21-30.
Su Y, Sun W, Wang C, Wu X, Miao Y, Xiong H, et al. Detection of serum IgG4 levels in patients with IgG4-related disease and other disorders. PLoS One. 2015; 17;10:e0124233.
Umehara H, Okazaki K, Kawano M, Mimori T, Chiba T. How to diagnose IgG4-related disease. Ann Rheum Dis. 2017;76:e46.
Kamisawa T, Shimosegawa T, Okazaki K, Nishino T, Watanabe H, Kanno A, et al. Standard steroid treatment for autoimmune pancreatitis. Gut. 2009; 58: 1504–7.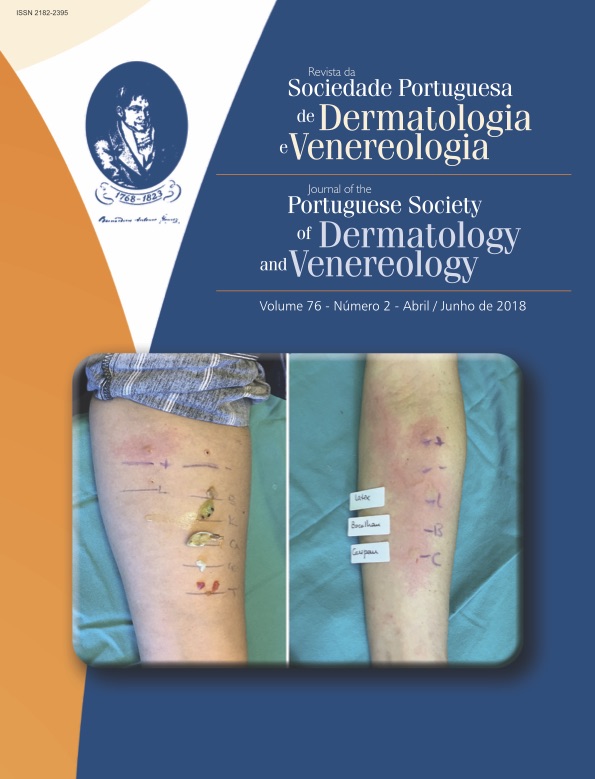 How to Cite
Batista, M., Ferreira, D., Morgado, F., Cardoso, J. C., Julião, M. J., & Gonçalo, M. (2018). Perioral Mucocutaneous Infiltration. Journal of the Portuguese Society of Dermatology and Venereology, 76(2), 205-208. https://doi.org/10.29021/spdv.76.2.844
All articles in this journal are Open Access under the Creative Commons Attribution-NonCommercial 4.0 International License (CC BY-NC 4.0).