Insights into CANDLE Syndrome
Keywords:
Hereditary Autoinflammatory Diseases, Lipodystrophy, Proteasome Endopeptidase Complex/genetics, Skin Diseases/ genetics, Syndrome
Abstract
Chronic atypical neutrophilic dermatosis with lipodystrophy and elevated temperature (CANDLE) syndrome is a recently described chronic autoinflammatory disease, pathophysiologically related to intracellular proteasome/immunoproteasome dysfunction. This review chronicles the recognition of CANDLE syndrome, the developments in the understanding of the pathomechanism, genetic background, and the emerging therapeutic strategies of this condition.
Downloads
Download data is not yet available.
References
Torrelo A, Patel S, Colmenero I, Gurbindo D, Lendínez F, Hernández A et al. Chronic atypical neutrophilic dermatosis with lipodystrophy and elevated temperature (CANDLE) syndrome. J Am Acad Dermatology 2010; 62: 489-495.
Liu Y, Ramot Y, Torrelo A, Paller AS, Si N, Babay S et al. Mutations in proteasome subunit β type 8 cause chronic atypical neutrophilic dermatosis with lipodystrophy and elevated temperature with evidence of genetic and phenotypic heterogeneity. Arthritis Rheum 2012; 64: 895-907
McDermott A, Jacks J, Kessler M, Emanuel PD, Gao L. Proteasome-associated autoinflammatory syndromes: advances in pathogeneses, clinical presentations, diagnosis, and management. Int J Dermatol. 2015;54(2):121-9.
Brehm A, Liu Y, Sheikh A, Marrero B, Omoyinmi E, Zhou Q et al. 2015. Additive loss-of-function proteasome subunit mutations in CANDLE/PRAAS patients promote type I IFN production. J. Clin. Invest. 125:4196–4211.
Torrelo A. CANDLE Syndrome As a Paradigm of Proteasome-Related Autoinflammation. Front Immunol. 2017; 9;8:927.
Ferrington DA, Gregerson DS. Immunoproteasomes: structure, function, and antigen presentation. Prog Mol Biol Transl Sci. 2012;109:75–112.
Xirotagaros G, Hernández-Ostiz S, Arostegui JI, Torrelo A. Newly described autoinflammatory diseases in pediatric dermatology. Pediatr Dermatol (2016) 33:602–14
Kitamura A, Maekawa Y, Uehara H, Izumi K, Kawachi I, Nishizawa M, Toyoshima Y,Takahashi H, Standley DM, Tanaka K, Hamazaki J, Murata S, Obara K, Toyoshima I, Yasutomo K. A mutation in the immunoproteasome subunit PSMB8 causes autoinflammation and lipodystrophy in humans. J Clin Invest. 2011 Oct;121(10):4150-60.
Boyadzhiev M, Marinov L, Boyadzhiev V, Iotova V, Aksentijevich I, Hambleton S. Disease course and treatment effects of a JAK inhibitor in a patient with CANDLE syndrome. Pediatr Rheumatol Online J. 2019 May 2;17(1):19
Ramot Y, Czarnowicki T, Maly A, Navon-Elkan P, Zlotogorski A. Chronic atypical neutrophilic dermatosis with lipodystrophy and elevated temperature syndrome: a case report. Pediatr Dermatol 2011; 28: 538-541.
Kluk J, Rustin M, Brogan PA, Omoyinmi E, Rowczenio DM, Willcocks LC et al. Chronic atypical neutrophilic dermatosis with lipodystrophy and elevated temperature syndrome: a report of a novel mutation and review of the literature. Br J Dermatol 2014; 170: 215-217.
Cavalcante MP, Brunelli JB, Miranda CC, Novak GV, Malle L, Aikawa NE et al. CANDLE syndrome: chronic atypical neutrophilic dermatosis with lipodystrophy and elevated temperature-a rare case with a novel mutation. Eur J Pediatr. 2016 May;175(5):735-40.
Al-Mayouf SM, AlSaleem A, AlMutairi N, AlSonbul A, Alzaid T, Alazami AM et al. Monogenic interferonopathies: Phenotypic and genotypic findings of CANDLE syndrome and its overlap with C1q deficient SLE. Int J Rheum Dis. 2018 Jan;21(1):208-213.
Yamazaki-Nakashimada MA, Santos-Chávez EE, de Jesus AA, Rivas-Larrauri F, Guzmán-Martínez MN, Goldbach-Mansky R et al. Systemic Autoimmunity in a Patient With CANDLE Syndrome. J Investig Allergol Clin Immunol. 2019 Feb;29(1):75-76.
Tüfekçi Ö, Bengoa Ş, Karapinar TH, Ataseven EB, İrken G, Ören H. CANDLE syndrome: a recently described autoinflammatory syndrome. J Pediatr Hematol Oncol. 2015 May;37(4):296-9.
Wang H, Das L, Tan Hung Tiong J, Vasanwala RF, Arkachaisri T. CANDLE syndrome: an extended clinical spectrum. Rheumatology (Oxford). 2014 Nov;53(11):2119-20.
Roberts T, Stephen L, Scott C, di Pasquale T, Naser-Eldin A, Chetty M, Shaik S, Lewandowski L, Beighton P. CANDLE Syndrome: orofacial manifestations and dental implications. Head Face Med. 2015 Dec 28;11:38.
Kieselova K, Santiago F, Guiote V, Amado C, Henrique M. Fever, lipodystrophy and cutaneous lesions. Clin Exp Dermatol. 2017 Dec;42(8):939-941.
Torrelo A, Colmenero I, Requena L, Paller AS, Ramot Y, Richard Lee CC et al. Histologic and Immunohistochemical Features of the Skin Lesions in CANDLE Syndrome. Am J Dermatopathol. 2015 Jul;37(7):517-22.
Shwin KW, Lee CR, Goldbach-Mansky R. Dermatologic manifestations of monogenic autoinflammatory diseases. Dermatol Clin (2017) 35:21–38.
Marzano AV, Damiani G, Genovese G, Gattorno M. A dermatologic perspective on autoinflammatory diseases. Clin Exp Rheumatol. 2018 Jan-Feb;36 Suppl 110(1):32-38.
Eleftheriou D, Brogan PA. Genetic interferonopathies: An overview. Best Pract Res Clin Rheumatol. 2017 Aug;31(4):441-459.
Montealegre G, Reinhardt A, Brogan P, et al. Preliminary response to Janus kinase inhibition with baricitinib in chronic atypical neutrophilic dermatosis with lipodystrophy and elevated temperatures (CANDLE) Pediatr Rheumatol. 2015;13(Suppl 1):O31
Sanchez GAM, Reinhardt A, Ramsey S, Wittkowski H, Hashkes PJ, Berkun Y et al. JAK1/2 inhibition with baricitinib in the treatment of autoinflammatory interferonopathies. J Clin Invest. 2018 Jul 2;128(7):3041-3052.
Jabbari A, Dai Z, Xing L, Cerise JE, Ramot Y, Berkun Y et al. Reversal of Alopecia Areata Following Treatment With the JAK1/2 Inhibitor Baricitinib. EBioMedicine. 2015 Feb 26;2(4):351-5.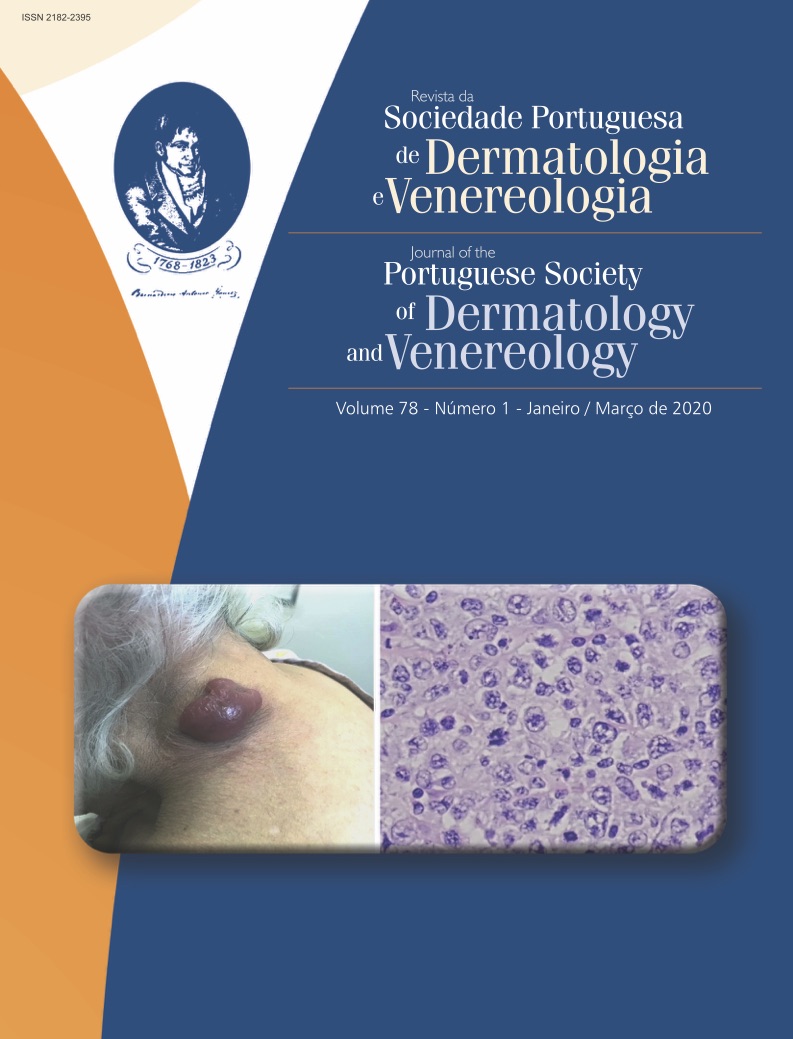 How to Cite
Kieselová, K., Santiago, F., & Henrique, M. (2020). Insights into CANDLE Syndrome. Journal of the Portuguese Society of Dermatology and Venereology, 78(1), 17-24. https://doi.org/10.29021/spdv.78.1.1132
Section
Continuous Medical Education
All articles in this journal are Open Access under the Creative Commons Attribution-NonCommercial 4.0 International License (CC BY-NC 4.0).