Cutaneous Lesions as the First Manifestation of Multiple Myeloma: Two Case Reports
Katarína Kieselová

Interna de Dermatologia e Venereologia/Resident of Dermatology and Venereology, Centro Hospitalar de Leiria, Leiria, Portugal

Felicidade Santiago

Assistente Hospitalar de Dermatologia e Venereologia/Consultant of Dermatology and Venereology, Centro Hospitalar de Leiria, Leiria, Portugal

Sofia Ramos

Assistente Hospitalar de Hematologia Clínica/Consultant of Hematology, Centro Hospitalar de Leiria, Leiria, Portugal

Maria Fernanda Cunha

Chefe de Serviço, Diretora do Serviço de Anatomia Patológica/Consultant Chief, Head of Department of Pathology, Centro Hospitalar de Leiria, Leiria, Portugal

Martinha Henrique

Chefe de Serviço, Diretora do Serviço de Dermatologia/Consultant Chief, Head of Department of Dermatology, Centro Hospitalar de Leiria, Leiria, Portugal
Keywords:
Amyloidosis, Multiple Myeloma, Skin, Xanthomatosis
Abstract
Multiple myeloma is a proliferative clonal disorder of plasma cells. The clinical presentation is highly variable, with recurrent infections, anemia, renal insufficiency or bone pain from osteolytic lesions as the main initial manifestations. Skin manifestations are unusual and mostly unspecific. We describe two patients with cutaneous lesions as the first sign of this hematologic malignancy: nodular deposits of amyloid in the external ear duct and diffuse plane xanthoma.
Downloads
Download data is not yet available.
References
Rajkumar SV. Multiple myeloma: 2016 update on diagnosis,
risk-stratification, and management. Am J Hematol.
; 91:719-34.
Bayer-Garner IB, Smoller BR. The spectrum of cutaneous
disease in multiple myeloma. J Am Acad Dermatol.
; 48:497-507.
Kois JM, Sexton FM, Lookingbill DP. Cutaneous manifestations
of multiple myeloma. Arch Dermatol. 1991;
:69-74.
Harati A, Brockmeyer NH, Altmeyer P, Kreuter A. Skin disorders
in association with monoclonal gammopathies.
Eur J Med Res. 2005; 10:93-104.
Daoud MS, Lust JA, Kyle RA, Pittelkow MR. Monoclonal
gammopathies and associated skin disorders. J Am Acad
Dermatol. 1999; 40: 507-35.
Kyle RA, Gertz MA, Witzig TE, Lust JA, Lacy MQ, Dispenzieri
A, et al. Review of 1027 patients with newly diagnosed
multiple myeloma. Mayo Clin Proc. 2003; 78:21-33.
Pereira N, Brinca A, Tellechea O, Gonçalo M. Plasmocitoma
cutâneo metastático em doente com mieloma múltiplo.
Rev Soc Port Dermatol Venereol. 2012; 70:387-90.
Rosmaninho A, Fernandes I, Guimas A, Amorim I, Selores
M. Diffuse plane xanthomatosis associated with
monoclonal gammopathy. An Bras Dermatol. 2011;
:50-2.
Goulão J, Monteiro M, Lohmann C, Delerue F, Barata J,
Furtado C, Bártolo E, Menezes Brandão F. Escleredema
associado a mieloma múltiplo. Trab Soc Port Dermatol
Venereol. 2007; 65:395-8.
Lestre S, Gonçalves A, João A, Ferreira A, Apetato M.
Manifestação de amiloidose sistémica primária. Acta
Med Port. 2009; 22:307-12.
Lipsker D. Monoclonal gammopathy of cutaneous significance:
review of a relevant concept. J Eur Acad Dermatol
Venereol. 2017; 31:45-52.
Hosoi T, Dhaliwal G, Tokuda Y. Amyloidosis in bilateral
external auditory canals. BMJ Case Rep. 2014; pii:
bcr2013200753.
Alvarez-Ruiz SB, Perez-Gala S, Aragues M, Fraga J, García-
Díez A. et al. Unusual clinical presentation of amyloidosis:
bilateral stenosis of the external auditory canal,
hoarseness and a rapid course of cutaneous lesions. Int J
Dermatol. 2007; 46:503-4.
Klemens JJ, Recant W, Baron JM, Saadia-Redleaf MI.
Amyloidosis of the external auditory canal. Ear Nose
Throat J. 2010; 89:219-20.
Gillmore JD, Wechalekar A, Bird J, Cavenagh J, Hawkins
S, Kazmi M, et al. BCSH Committee. Guidelines on the
diagnosis and investigation of AL amyloidosis. Br J Haematol.
;168:207-18.
Szalat R, Arnulf B, Karlin L, Rybojad M, Asli B, Malphettes
M, et al. Pathogenesis and treatment of xanthomatosis
associated with monoclonal gammopathy. Blood. 2011;
:3777-84.
Cohen YK, Elpern DJ. Diffuse normolipemic plane xanthoma
associated with monoclonal gammopathy. Dermatol
Pract Concept. 2015; 5:65-7.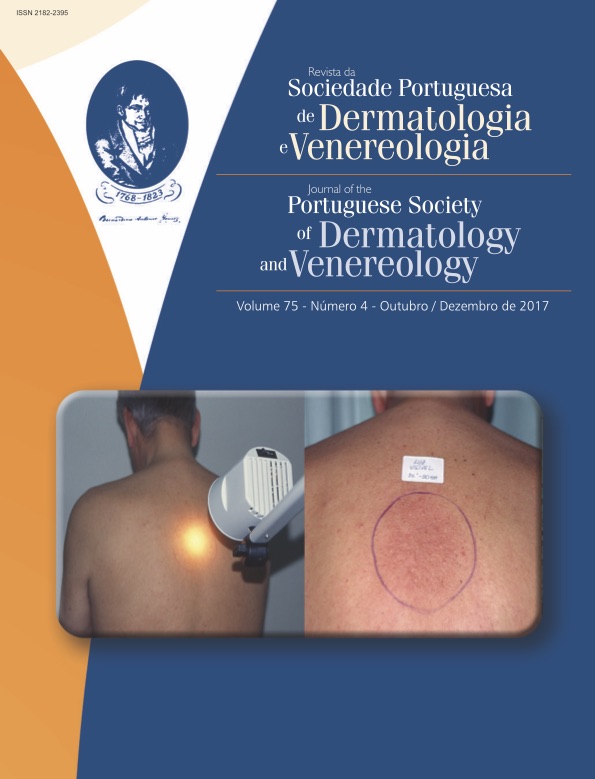 How to Cite
Kieselová, K., Santiago, F., Ramos, S., Cunha, M. F., & Henrique, M. (2018). Cutaneous Lesions as the First Manifestation of Multiple Myeloma: Two Case Reports. Journal of the Portuguese Society of Dermatology and Venereology, 75(4), 401-405. https://doi.org/10.29021/spdv.75.4.753
All articles in this journal are Open Access under the Creative Commons Attribution-NonCommercial 4.0 International License (CC BY-NC 4.0).