Multiple Eruptive Dermatofibromas in a Patient with HIV infection
Alexandre Miroux Catarino

Médico Interno de Dermatovenereologia/Resident of Dermatology and Venereology, Serviço de Dermatologia, Centro Hospitalar de Lisboa Ocidental, Lisboa, Portugal

http://orcid.org/0000-0001-8243-8724

Luís Soares-de-Almeida

Assistente Hospitalar de Dermatovenereologia / Consultant, Dermatology and Venereology, Centro Hospitalar Lisboa Norte; Professor Auxiliar Convidado de Dermatologia e Venereologia / Associated Professor, Dermatology and Venereology, Faculdade de Medicina da Universidade de Lisboa, Lisboa, Portugal

João Borges-Costa

Assistente Hospitalar de Dermatovenereologia / Consultant, Dermatology and Venereology, Centro Hospitalar Lisboa Norte; Professor Auxiliar Convidado de Dermatologia e Venereologia / Associated Professor, Dermatology and Venereology, Faculdade de Medicina da Universidade de Lisboa, Lisboa, Portugal; Professor Auxiliar Convidado de Microbiologia / Professor, Microbiology, Instituto de Higiene e Medicina Tropical da Universidade Nova de Lisboa, Lisboa, Portugal
Keywords:
HIV Infections, Histiocytoma, Benign Fibrous, Skin Neoplasms
Abstract
Multiple eruptive dermatofibromas is a rare event characterized by the appearance multiple dermatofibromas in few months. It is usually associated with immunodysregulation/immunosuppression. An appropriate work-up of underlying diseases must be done after this diagnosis, including search for HIV infection and lupus erythematosus. We present a case of multiple eruptive dermatofibromas in a female patient with HIV infection, possibly associated with a decrease in the CD4+ T cell count and viral load increase.
Downloads
Download data is not yet available.
References
Callahan S, Matires K, Shvartsbeyn M, Brinster N. Multiple eruptive dermatofibromas. Dermatol Online J. 2015;21(12).
Zaccaria E, Rebora A, Rongioletti F. Multiple eruptive dermatofibromas and immunosuppression: report of two cases and review of the literature. Int J Dermatol. 2008;47(7):723-7.
Baraf CS, Shapiro L. Multiple histiocytomas. Report of a case. Arch Dermatol. 1970;101(5):588-90.
Ammirati CT, Mann C, Hornstra IK. Multiple eruptive dermatofibromas in three men with HIV infection. Dermatology. 1997;195(4):344-8.
Niiyama S, Katsuoka K, Happle R, Hoffmann R. Multiple eruptive dermatofibromas: a review of the literature. Acta Derm Venereol. 2002;82(4):241-4.
Chacon AH, Franca, K., J. L, J JS, Nouri K. Multiple eruptive dermatofi bromas exclusive to the hands. Medicina Cutanea Ibero-Latina-Americana2014. p. 142-4.
Garcia-Millan C, Aldanondo I, Fernandez-Lorente M, Carrillo R, Jaen P. [Multiple eruptive dermatofibromas in 2 patients infected with the human immunodeficiency virus]. Actas Dermosifiliogr. 2007;98(10):702-6.
Bachmeyer C, Cordier F, Blum L, Cazier A, Verola O, Aractingi S. Multiple eruptive dermatofibromas after highly active antiretroviral therapy. Br J Dermatol. 143. England2000. p. 1336-7.
Silvestre JF, Betloch I, Jimenez MJ. Eruptive dermatofibromas in AIDS patients: a form of mycobacteriosis? Dermatology. 1997;194(2):197.
Kanitakis J, Carbonnel E, Delmonte S, Livrozet JM, Faure M, Claudy A. Multiple eruptive dermatofibromas in a patient with HIV infection: case report and literature review. J Cutan Pathol. 2000;27(1):54-6.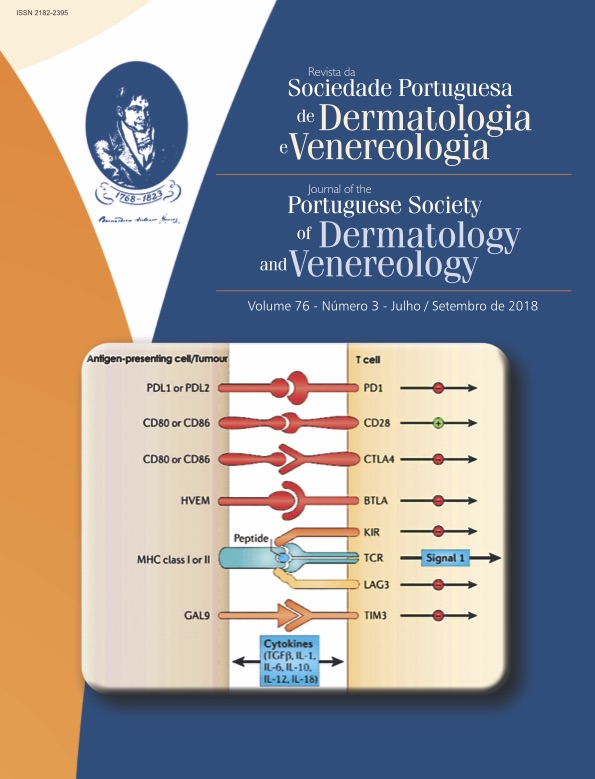 How to Cite
Miroux Catarino, A., Soares-de-Almeida, L., & Borges-Costa, J. (2018). Multiple Eruptive Dermatofibromas in a Patient with HIV infection. Journal of the Portuguese Society of Dermatology and Venereology, 76(3), 325-328. https://doi.org/10.29021/spdv.76.3.902
All articles in this journal are Open Access under the Creative Commons Attribution-NonCommercial 4.0 International License (CC BY-NC 4.0).